Information / Electronics / Display / Battery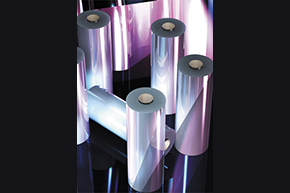 Integrating three core competencies to challenge the further possibilities of polyester film
Diafoil™ polyester film, available in many film varieties and range from few microns to 350 microns in thickness, offers an optimal balance of mechanical properties, heat resistance, and other characteristics. Used in a growing number of applications, it is used in many different products around the world.
Aiming to be a global leader in polyester film, we develop new markets with partnership of customers by leveraging three core competencies - unmatched polymer technology, film production techniques perfected over many years, and surface treatment technology based on proprietary coating knowledge.
Constant diligence and refinement, for superior products
Our polyester film business works in harmony with polymer business. By incorporating advanced information and technology, we improve our quality and refine our production process to satisfy the diverse needs of our customers.
We are committed to continue the effort to supply products of exceptional quality, and to maximize our customer's satisfaction and develop long-standing relationship.
Characteristics
Polymer Technology
We develop and adopt polymers optimized for wide variety of applications.
Film Production Technology
We draw on nearly 50 years in film manufacturing and maintain our quality management practices to ensure production consistency. We produce our products based on accumulation of film manufacturing experience and on our quality management process.
Coating Technology
With a rich surface treatment product lineup, we expand an availability of applications of PET film.
Applications
We constantly pursue efficient order management and thorough customer service to provide with satisfaction.
Such unremitting efforts are putting us where new application development of polyester film with a variety of product properties has been making steady advances.
Flat Panel Displays
Clarity, flatness, smoothness, heat resistance, and other outstanding qualities of polyester film make it a popular base material for optical sheets of LCD backlights. Can also be used as protective- or release-film substrate in LCD production process.
Electric and Electronic Parts
Diafoil™ has high insulation property and excellent dimensional stability and transparency, as well as other desirable electrical and physical properties. It is heat-resistant and smooth, and has solid reputation for use in electric and electronic parts such as electrical cable, transformer insulation film, membrane touch switches, and flexible printed circuit.
General Industrial Use or Custom Parts
Available in thicknesses from few microns to 350 microns and in a variety of film types, Diafoil™ offers superb heat resistance, dimensional stability, and chemical stability. It is used in many products throughout the industrial market, such as transfer (hot stamping) foil, release film, plastic cards, labels, liners, ceramic capacitors, and so on.
Packaging
Many qualities are needed in packaging material, which must shield products from UV rays, gases, humidity, water, and heat while being easy to print on. Polyester film provides safety as metalized packaging and base materials for laminate film.